(EXPERIENCED READY MIX DRIVERS WANTED)
(EXPERIENCED READY MIX DRIVERS WANTED)
(EXPERIENCED READY MIX DRIVERS WANTED)
(EXPERIENCED READY MIX DRIVERS WANTED)
(EXPERIENCED READY MIX DRIVERS WANTED)
(EXPERIENCED READY MIX DRIVERS WANTED)
Gotham Ready Mix was established in 2019 through the acquisition of the Bronx plant previously owned by NYC Ready Mix.
Following this acquisition, the company embarked on the construction of the Brooklyn site, which was completed between 2020 and 2021. The Brooklyn plant is dedicated to serving clients of various capacities, offering a comprehensive range of concrete solutions, from standard mixes to high-performance options with a design strength of up to 14,000 psi. To enhance its capabilities, Gotham Ready Mix recently incorporated a Zimmerman Mobile Volumetric Mixer (Zim-Mixer) and a 60-ft. Theam TLD truck-mounted conveyor on a 2021 Kenworth T880, enabling the company to efficiently supply concrete vertically up to 35 feet and horizontally up to 60 feet.
As a reputable provider in the ready-mix industry, we specialize in managing all aspects of concrete production, transportation, distribution, and designing integrated solutions to meet the specific objectives of our valued customers.
With a strong emphasis on technological innovation, we are dedicated to delivering tailored and customized solutions to address the unique needs of each client. Our company is deeply rooted in a set of core values that define who we are: integrity, accountability, dependability, honesty, sustainability, and excellence. These values serve as the guiding principles for our operations, ensuring that we consistently uphold the highest standards of quality and service. Our commitment to excellence is reflected in our approvals from esteemed organizations such as the Department of Transportation (DOT) and the National Ready Mixed Concrete Association (NRMCA).
When you choose us, you can expect personalized assistance from our team of experts who are readily available to address all your concrete-related inquiries.
As one of the leading concrete suppliers in the New York City area, we have established a solid reputation among contractors, architects, and developers. Our dedicated local operators will guide you through the process, ensuring that you are aware of and can take advantage of all the customer benefits that you are entitled to receive.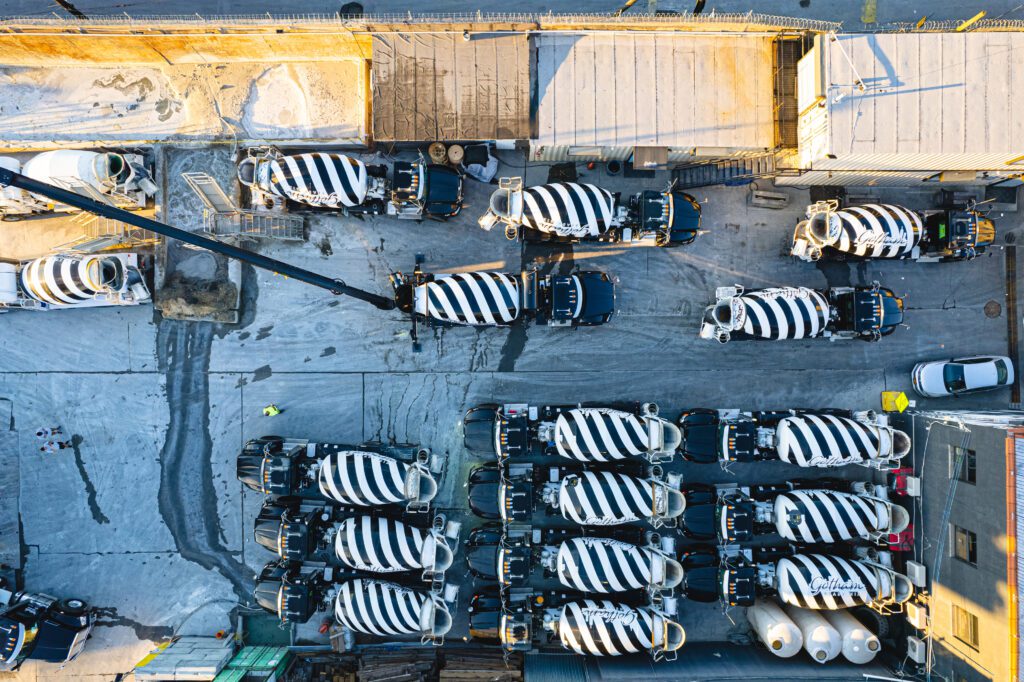 With a comprehensive fleet that includes 78 rear-end mixers, a conveyor truck, and a mobile volumetric truck, we have everything you need to kickstart your next project.
Gotham Ready Mix is your trusted source for reliable ready-mix concrete and technical support. Our efficient delivery system ensures that you receive the concrete you need promptly, allowing you to stay on schedule and meet your project deadlines without delay. Count on us to provide the quality products and timely service you require for a successful construction venture.
When it comes to ensuring a constant supply of fresh concrete mixture at your construction site, having a concrete mixing truck with high volume and efficiency is crucial.
With our fleet at your disposal, you can keep your construction projects running smoothly, knowing that readily available fresh concrete mixtures are just a phone call away. No matter the scale or type of your construction project, we have the right concrete mixer in stock to meet your needs. Whether you're undertaking the construction of an apartment complex or a commercial facility, our concrete trucks are designed to deliver efficient and quick results. Our fleet of trucks is equipped to produce a large volume of ready-to-use concrete in a single batch, eliminating the need for you to stop and mix multiple batches throughout the day. This translates to less downtime and increased productivity on your construction site. With our reliable fleet, you can focus on the task at hand, confident in the continuous supply of high-quality concrete for your project.
When it comes to streamlining your construction projects, the right transportation equipment is essential. Our concrete conveyor trucks are the perfect solution for efficient material handling on your job site.
These specialized vehicles eliminate the need for manual labor by seamlessly transporting concrete and other building materials. From sand and cement to gravel and aggregates, our conveyor trucks can handle a wide range of materials with ease and precision. We are proud to offer the latest technology in concrete conveying, including our state-of-the-art 60-ft. Theam TLD truck-mounted conveyor, which is specifically designed to meet the demands of construction projects in New York. For more information on how our concrete conveyor trucks can enhance your construction processes, don't hesitate to contact our knowledgeable team.
When it comes to cost-effectiveness and efficiency in construction projects, our Zim mixer trucks are the optimal choice.
These mobile concrete plants offer a streamlined solution for producing the exact concrete mixture needed, eliminating any waste in the process. With Zim mixer trucks, you can avoid overruns and maintain efficiency throughout the construction area. Our Zim mixer trucks feature an adjustable mixing system, allowing you to easily modify the building ratio to meet the specific requirements of your project. This ensures that you only use the materials necessary, while any leftover unused materials are securely stored in separate bins for future use. By incorporating our mixer trucks into your project, you can enhance both efficiency and cost-effectiveness. We are excited to announce the addition of a Zim-Mixer volumetric to our inventory, further expanding our capabilities to meet your construction needs. Experience the benefits of increased efficiency and reduced waste with our Zim mixer trucks. Contact us today to learn more about how our innovative solutions can optimize your construction projects.